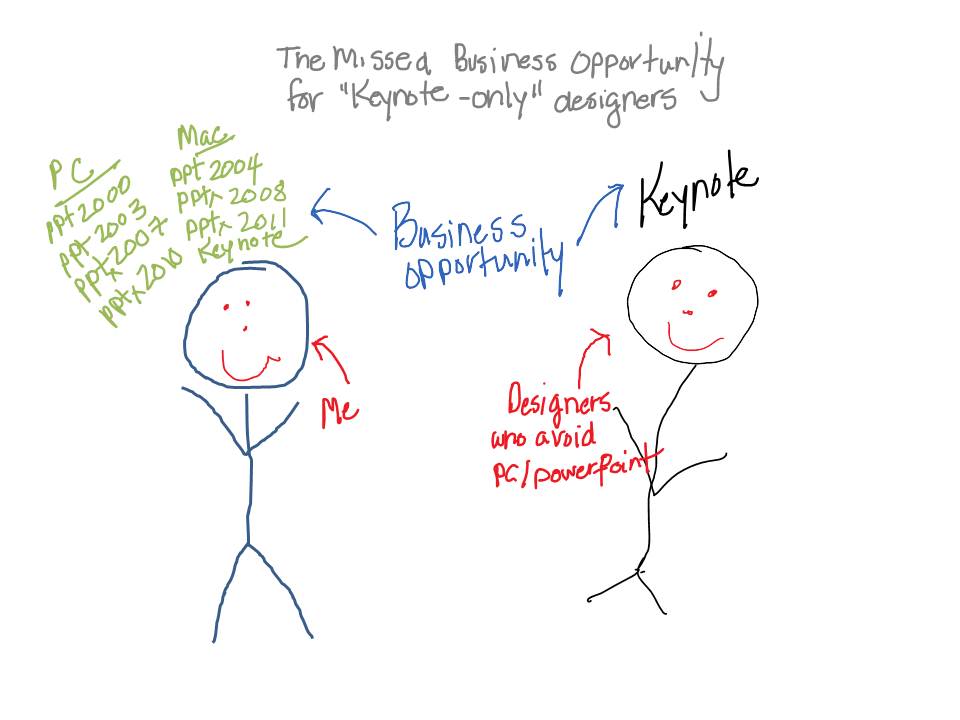 Are freelance designers missing out on a business opportunity?
It's the age-old issue: Mac vs. PC.  Which is better? Designers will tell you that the Mac, hands-down, is better for fine design. I won't argue that point. I respect their devotion.
Now let's discuss business. I'm in the business of creating great PowerPoint presentations for clients all over the world. I work largely on a PC —  because most of my clients are on PCs.  That said, these PC clients use various versions of PowerPoint, including PowerPoint 2000 (I haven't run into PPT '97 for a while), 2003, 2007 and 2010. And, God Bless 'Em, a few of my clients are on a Mac, running PowerPoint 2004, 2008 and 2011.
And one client uses Keynote.
So, how do I deliver product for these varying end users/uses? I create the presentation materials using the software program that my clients use. End of story. That way, they have what they need to conduct business without dealing with compatibility issues because their designer created the presentation in another version — or program. An added bonus — I'm pretty smart about the potential problems they might face when their materials interact with other presentation software.  I help my clients understand these potential issues, how to avoid them or how to troubleshoot them.  And if all else fails, pick up the phone and call me for help.
That's business. I get a ton of business because I evaluate end-user needs and use the appropriate software program to create presentations. I'm there for them when they face problems. For those designers who are Mac/Keynote devotees — and want more business — I'd recommend they become more computer/program/software agnostic and help out their clients a little bit.